How We Shot It | Dr Brandt Skincare Campaign
It usually takes a long time between an actual shoot and the day the results of a project are out for the world to see. But it's the best feeling in the world when the results are worth the wait.
Right now we're enjoying seeing our advertising work for Dr Brandt Skincare in all of the major beauty magazines in the US: Elle, Harper's Bazaar, Marie Claire, In Style, Allure and Vogue. Our 3-D LIP PLUMPfix  ad will be in these magazines in March and April 2017, so if you see any of them on a newsstand, flip through to check it out 🙂
THE PREPARATION & EXECUTION
I wrote about my preparation process in detail a few months ago in my PLANNING & PREPARING FOR A SKINCARE CAMPAIGN blog.
In the preparation for this campaign, I worked with the client on the moodboards and our shot-list for a few weeks prior to the shoot, trying to have everything planned out to a tee.
We had many products to cover and 6 models to shoot in 2 days. The client was flying to Los Angeles from Miami for the shoot, so there was no room for decision-making during the shoot, everything had to be completely laid out in advance.
However, ironically, this specific product was not in our shot-list at all. At the time, only the product's prototype existed and the client brought the one item that is starring in the ad to Los Angeles for the shoot.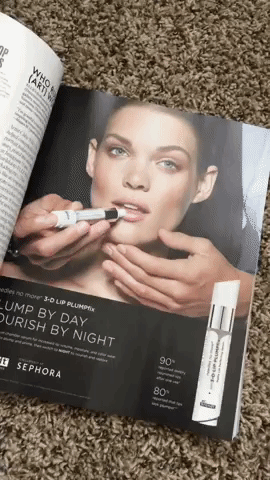 During our planning phase, I spent some time hunting for some good looking black rubber gloves around town as the client wanted to shoot hands in white and black gloves. I found and purchased a few versions of both types. When we got down to shooting for this product, the CEO stepped into the set to show me what he had in mind pose-wise while my colleagues were getting the gloves for him.
He held the product in his uncovered hands and – being a stylish and handsome French man – his hands looked so elegant, that I offered to try and shoot this set of images without the gloves and have him pose with the product just like that.
I must confess, I am feeling very proud for bringing this up and having the client agree to go with my creative vision – something that wasn't planned ended up being the shot that is now circulating in all major beauty magazines.
As a creative professional, it is the most gratifying feeling when your client allows you to step away from the "script", do something that was not planned and it works out so well in the end.
Of course, in an ideal world, your voice must be heard during all of the phases of the image creation process, because you are the expert the client came to. But the truth is that it's not always so: there are many decision makers on the client's side and often we photographers just have to stick with the approved plan during the shoot.
LIGHTING SETUP
Based on the clients' image references for each product and their upcoming website design notes we had to shoot with a few different background colors: black, white and "somewhere in the middle".
I mainly shot with the basic version of my Classic Portrait lighting setup (covered in CH3 V01 Classic Portrait Setup video of our Go Pro: Studio Beauty video course for photographers) just swapping the backdrops, and used the Clean Beauty setup (CH3 V06 Clean Beauty video of the course) for the shots against the white background.
My main light modifier was a 22″ silver beauty dish with and without a 30-degree grid for the entire campaign shoot.
We captured a little BTS video during the first day of the shoot:
MAKEUP
My colleague and dear friend Lupe Moreno is a natural skin makeup magician. She did a great job for this campaign shoot, as always.
If you are interested, Lupe kindly shared her makeup application routine for natural makeup in the 5th issue of the [RE]TOUCHED Magazine, titled Beautiful Skin (page 87, Natural Beauty Makeup by Guadalupe Moreno).
In short, her approach can be described as "Less is More".
In my view, when it comes to showing off beautiful skin in skincare photography, 95% of success comes from selecting models with next to flawless skin, skillful makeup application and great lighting.
Retouching then allows me to take the images to the next level and not waste my time on correcting an imperfect capture and fixing skin texture problems which cannot be hidden with makeup anyway.
In beauty photography, makeup application is very different from makeup for "red carpet" events, TV and video appearances, that's why I stopped testing with experienced celebrity and/or television makeup artists. It can be compared to expecting a landscape photographer to produce impactful dynamic commercial fashion shots with studio lighting for a change. I am not saying that it's impossible, I am just saying that it takes a lot of knowledge and practice.
So, if you are a beauty photographer who is working on building your beauty squad, choose makeup artists who have a lot of experience in studio beauty photography. Even fashion photography makeup is different, in my opinion.
MODELS
If you have been following my work for some time, you may notice that I had shot with all of these models before.
It is only natural that I suggest the models I have worked with and – what's more important enjoyed working with – to my clients. Each of these girls had shown how hard-working, professional and reliable they were during our tests and unpaid shoots in the past. I always feel so happy when I get them involved in exciting jobs.
Not all models are dedicated to their profession, or intelligent enough to understand this, so no-shows and last minute cancellations do happen every now and then for test shoots. But those models only hurt themselves in the long run.
Obviously, not only I would never recommend a girl who have let me down before for a commercial shoot, moreover I will make sure my colleagues and clients know a model is unreliable if she gets picked for a project that I am shooting. And it's not because I'm holding grudges, it's simply because I don't ever want to experience this.
During this campaign shoot one of the models did not show. She was the first model in our schedule for the second day and the client was super frustrated, while I was about to start pulling my hair out, texting and calling her to no avail.
Luckily, one of the models I had previously worked with, happened to be available, graciously stepped in and saved the day for us. Here she is:
TETHERING
And before I sign off today, I just want to say if you are still not shooting tethered, you are missing out big time!
It is so much easier and less expensive these days, there's no reason why you would not do it. My favorite device for wireless tethering is CamRanger and I usually tether into my iPad Mini or iPad Pro, depending on the type of the shoot and the size of the production. I share a little bit about how I use it on My Tools page, if you are interested.
Here are some of the iPhone snaps of the straight out of camera images on my iPad during the shoot:
Beauty Retouching Workflow Checklist
A free PDF checklist for those who strive to be a better Beauty Retoucher